Tuff Spas come with the patented Tuff Top Cover option. The Tuff Top Cover is the worlds only hot tub cover that coverts into a shelf/bar when open and comes with a LIFETIME WARRANTY so it will never need to be replaced. Tuff Spa offers a variety of seating and jet configurations to meet the needs of each individual user.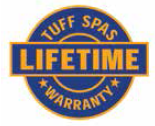 Tuff Spa Cover
Innovative
Never buy another cover
Cover converts into a shelf/bar
Holds over 500 lbs!
Fully insulated
Gasket sealed for maximum efficiency
Patented channel flow design prevents water from pooling on top of cover
Easily opened/closed by one person
No More Rotting, Smelling, or Sagging Covers
LIFETIME warranty!
Colored Stone
Finally a colored stone panel with a realistic finish! Our NEW colored stone offers a multicolor stack stone panel that is sure to enhance any backyard.
Blue sTUFF
Tuff Spas are made with Blue sTUFF Insulation which is made from thermally bonded recycled denim. This Natural Fiber Spa Insulation contains no fiberglass and does not cause itching or skin irritation.
Excellent Noise Absorption
Sustainable Product
Strong Thermal Protection
No Itch Or Skin Irritation
Resists Microbial Growth
Side Access Panels
All models come with large access panels on each side of the spa which allows for easy access to the spa's equipment; including the pump, heater, plumbing, jets, control panel, electrical hook-up, light and drain. This makes any maintenance on the spa simple and easy.
Solid One-Piece Bottom
Tuff Spas feature a solid one piece bottom, which allows you to place your spa on ANY flat, level surface. There is no need to spend extra money having a pad poured for your Tuff Spa. The solid one peice bottom also keeps the heat in.
TT 150
Specifications
Tuff Top Cover Available
Seats 2 Adults
77″L x 52″W x 27″H
150 Gallons
280 lbs. Dry Weight
Digital Display
Light
110/220v Convertible
14 Jets
1.5 HP Pump
1kw/4kw Heater
25 sq. ft. Filter
TT 250
Specifications
Tuff Top Cover Available
Seats 2-4 Adults
77″L x 60″W x 29.5″H
250 Gallons
405 lbs. Dry Weight
Digital Display
Light
110/220v Convertible
19 Jets
2.0hp Pump (1.5hp in CA)
TT 450
Specifications
Tuff Top Cover Available
Seats 4-7 adults
77"L x 77"W x 35"H
350 Gallons
Light
560 lbs. Dry Weight
Digital Display
110/220v Convertible
22 Jets
2hp Pump
1kw/4kw Heater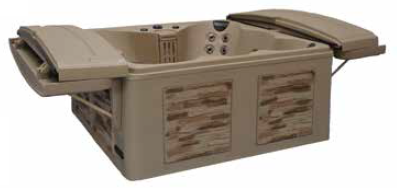 TT 650
Specifications
Tuff Top Cover Available
Seats 4-5 Adults
77"L x 77"W x 29.5"H
300 Gallons
510 lbs. Dry Weight
Digital Display
Light
21 Jets
110/220v Convertible
2.0hp Pump
1kw/4kw Heater
40 sq. ft. Filter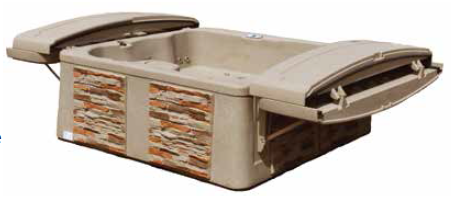 TT450 PLATINUM
Specifications
Patented TuffTop Hard Cover
Seats 4-7 adults
77″L x 77″W X 35″H
350 Gallons
560 lbs. Dry Weight
Exclusive Multi-Colored Stack Stone Panes
Removable Blue sTUFF Insulation
Solid Bottom Keeps Rodents Out and Heat In
Large Side Access Panels for Easy Access to All Plumbing
Varied Depth Seating for All Sizes
Full Body Therapy Focusing on All Muscle Trigger Points
LED Multi Colored Light System
Lifetime Warranty
220V
50 Jets
2-4hp Pumps
4kw heater
40 sq. ft. Filter
Made in the USA
TT 650 PLATINUM
Specifications
Patented TuffTop Hard Cover
Seats 5 adults
77″L x 77″W X 29.5″H
300 Gallons
510 lbs. Dry Weight
Exclusive Multi-Colored Stack Stone Panes
Removable Blue sTUFF Insulation
Solid Bottom Keeps Rodents Out and Heat In
Large Side Access Panels for Easy Access to All Plumbing
Varied Depth Seating for All Sizes
Full Body Therapy Focusing on All Muscle Trigger Points
LED Multi Colored Light System
Lifetime Warranty
220V
50 Jets
2-4hp Pumps
4kw heater
40 sq. ft. Filter
Made in the USA