Extend your swim season and enjoy the comfort of warmer water!

Relaxation Starts Here
Chances are, the last thing that you would want to think about is your pool heater. You expect to be comfortable and that's why Rheem is the best choice that you can make. We simply offer the finest pool heating solutions in the business. With Rheem, you get top quality, innovative products that come with the latest technology, dependable performance, great warranties and excellent service and support. This is why we say, "Relax, It's Rheem"
Rheem Quality and Comfort
Rheem pool heaters provide year-round comfort for your pool or spa and are unmatched in features and benefits. They are designed to make your pool or spa the most comfortable place on earth. Today, we maintain our reputation as a worldwide industry leader by assuring that our product quality is unmatched and by setting the standards for support and service.
Rheem Engineered
All Rheem products must pass rigorous engineering design standards. This means every heater design has been tested and certified at a Rheem research and development facility. This includes environmental chamber testing, fatigue testing, performance testing as well as shipping and handling tests. This ensures that the smallest detail is not overlooked and every unit built is first quality. This strategic focus allows for ongoing heater product innovation and improvements. Rheem heaters are among the leaders in the pool and spa industry and will continue to be a leader in the years to come.
Digital and Millivolt Pool Heaters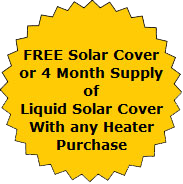 Models: P-M206, P-M266, P-M336, P-M406
Four Sizes: 199,500, 266,000, 332,500 & 399,000 BTU/HR
Copper Fin Tube Heat Exchanger, Rust-Free Waterways
2″ Water Connections
Digital Control with Self-Diagnostics
Meets or Exceeds Federal Energy Standards
Natural or Propane Gas
PolyTuf Textured Powder Coating
Wind-Resistant Design
Polymer Headers
All-Copper-Fin-Tube Heat Exchanger
Stainless Steel Tube Sheet
Condensation Protection
High Flow Rates
Burner Tray
Fire Tile
Fuel-Efficient
Classic Heat Pump Pool Heaters
Models: M5350ti, M6350ti, M8350ti
Three Sizes: 95,000, 117,000, 133,000 at 80/80/80
AHRI Certified and Listed
Scroll Compressor
Titanium Spiral Tub Heat Exchanger
2″ PVC Union Connections
Analog or Digital Control
COP up to 606 at 80/80/80, Meets Florida 4.0 Minimum COP
Specialty Heat Pump Pool Heaters
Models: M6350tiHC, M6350tiPD, M8350ti-E-HC
Two Sizes: 110,000 & 133,000 BUT/HR at 80/80/80
Power Defrost 117,000 BTU/HR
AHRI Certified and Listed
Scroll Compressor
Titanium Spiral Tube Heat Exchanger
2″ PVC Union Connections
Digital Control
COP up to 6.2 at 80/80/80, Meets Florida 4.0 Minimum COP