When the weather becomes consistently warm, it's time to open your pool for summer. Here are some basic steps for opening your pool, so you and your family will be ready to enjoy making a splash as the temperatures rise.
1. Remove and Clean Your Winter Pool Cover
Start by removing water, leaves and debris from your winter pool cover, using a submersible pool pump and broom. Afterwards, you should be able to carefully remove the cover from your pool and lay it on your lawn. With a soft brush, soap or winter cover cleaner and water, thoroughly clean your winter cover and get it ready for summer storage.
2. Take out Winter Plugs and Skimmer Ice Compensators
Next, you'll want to remove winter plugs from return jets and step jets, and replace your return lines with the right fittings. Then, remove your pool pillows, or ice compensators, from your skimmer buckets and replace your skimmer baskets.
3. Fill up Your Pool
If your pool's water level is below the normal operating level, you will need to refill it to the proper level using your garden hose.
4. Ready Your Filter and Pump
Pressure gauge, drain plugs and other parts should be replaced on your filter and pump when opening your pool for the season. Also, be sure to reinstall any other equipment, such as your boost pump, heater and chlorine dispenser, ensuring that all drain plugs are secure. Then, turn on your pump and filter, and check for any leaks and drips. In addition, be sure that your pump is pulling water.
5. Clean Your Pool
Using a pool vacuum, plastic leaf net and pool brush, remove as much dirt and debris from your pool as possible. You should also check to see if your valves are pulling water from your bottom drains.
6. Shock Your Pool
Take a sample of your water to Monarch Pools & Spas – located at 180 Furler Street, Totowa, NJ – for free, in-store water testing. Our team will be able to recommend the appropriate chemicals to clarify your pool water. Then, shock your pool, and let it run for at least 24 hours. Retest your water, and if everything checks out, get ready to dive right in.
If you suspect any problems during the pool opening process, Monarch Pools & Spas can help you get back on track. Our pool services include pump and filter repairs, pipe replacements and more, as well as pool opening and closing services. Serving homeowners in New Jersey in Rockland County, Westchester County, Putnam County, as well as Yonkers and Orange County, call our experienced team at 973-812-9440 973-812-9440 today to learn more about our in-ground and above-ground pool services.
From swimming laps to deep-diving, every member of the family enjoys hanging out in your in-ground swimming pool from Monarch Pools & Spas. Enhance your backyard swimming experience when you equip your swimming pool with one of our salt water systems, and transform your pool into an oceanic oasis. Not sure if a salt system is right for you? Learn more with our quick overview.
The Benefits of Salt Water
Compared to traditional pool water systems, there are a number of advantages to selecting a salt water system for your swimming pool. Conventional pool water is often filled with chemicals that can trigger allergic reactions and affect your swimming experience, causing an itchy throat, irritated eyes, dry skin and even brittle hair. Salt water, or saline, swimming pools don't use chemical-based chlorine so the water can be more comfortable to swim in and gentler on your skin, hair and eyes. In fact, a salt water system generates its own chlorine naturally for softer, silkier pool water.
Because saline pool water has a built-in chlorine supply, this makes making for easy maintenance throughout the swimming season. The natural chlorinating process of salt water systems also helps to save you money from buying chlorine products to test and treat your swimming pool.
Our Selection of Salt Water Systems
After considering the many benefits of salt water swimming pool systems, you might be ready to make the switch. At Monarch Pools & Spas, we offer a variety of Hayward salt water systems that are easy to install and maintain, so you can enjoy your salt water swimming pool for years down the road. Our systems include:
Salt & Swim 3C, an entry-level Hayward salt water system that delivers the "3 Cs" for your swimming pool: comfort, convenience and cost Savings.
AquaRite 900 Series, which transforms your pool water into luxuriously soft quality water for enjoyable swimming all summer long.
AquaPlus, which takes comfort and convenience to the next level. Designed for pools and spas, this all-in-one salt water system offers different functions so you can program automated cleaning, pool lighting, spa jets and more.
Make the Switch to Salt
Looking to enhance the feel of your in-ground swimming pool? Choose a salt water system from Monarch Pools & Spas and experience the benefits for yourself. Contact us to learn more about the salt water systems we offer.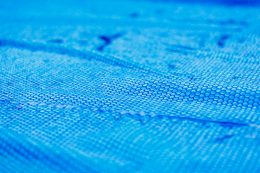 In the Northeast, the swimming season is typically June, July and August. But what if you could extend your pool season without breaking the bank? While some pool owners turn to pool heaters, there's a more affordable alternative – the solar cover. Most people have found that they can extend their pool season by at least a month (2 weeks in May and 2 weeks in September).
How Solar Covers Work
Solar covers are designed to cover your pool when not in use to prevent heat loss caused by evaporation. They're made with special materials that absorb sunlight and transfer the heat to the water. Solar covers also feature air bubbles that serve as insulation, helping prevent water evaporation to keep the water at a comfortable temperature – especially when temperatures dip at night.
Prolong Your Swim Season
When you purchase a solar cover for your in-ground or aboveground pool, you invest in a longer pool season. Because solar covers convert solar radiation into heat, you can enjoy comfortable pool temperatures for longer than you would be able to without a cover. This keeps your pool warm even if your home doesn't get direct sunlight. Best of all, there's no cost associated with using solar covers after the initial purchase.
Additional Solar Cover Benefits
If you already have a pool heater, don't write off solar covers just yet. Because of the insulative properties of these types of covers, they help reduce the loss of heat and thus reduce the run cost of your heater unit. That means you can enjoy a longer swim season without having to fork over serious amounts of cash to keep your pool water at the ideal temp.
Last but not least, solar covers help minimize chemical depletion. Without a cover, your pool water will evaporate at surprising rates, affecting the water's chemical balance. However, when you use solar covers, you can decrease your chemical consumption by cracking down on evaporation.
Invest in Solar Covers
Enjoy comfortable water temperatures in season and out when you purchase a solar cover for your pool. Stop into Monarch Pools & Spas at 180 Furler St in Totowa, NJ to shop our selection of pool covers.
Settling into a warm spa from Monarch Pools & Spas after a long workday is the essence of relaxation. In addition to making you feel good, did you know that soaking in a home spa can actually benefit your health? Find out how the simple act of climbing into your hot tub can impact your overall well-being.
The Health Benefits of Owning a Home Spa
Relieve Stress and Anxiety
Whether you're a workaholic, a stay-at-home parent or just a human being, the hectic routines of everyday life can have you feeling stressed out. Often, the stress and anxiety you feel goes beyond your emotional state of mind, so you might experience the physical symptoms of stress including headaches, fatigue and muscle tension. When you start to feel so stressed out that it affects your overall well-being, it's time to seek an outlet for the relief you need.
Feel the stress melt away when you relax into a spa from Monarch Pools & Spas. The combination of warm water and massage jets in a hot tub helps your body to loosen up, so you can finally take a deep breath and relax. Taking 10 minutes in the morning before work or longer in the afternoon to unwind in your home spa can help decrease the stress you feel, while also helping you feel renewed and rejuvenated.
Minimize Aches and Pains
Taking the time to de-stress in your home spa feels great, but it can feel even better when you experience lower back pain, arthritis, sore muscles and other musculoskeletal conditions. The warm water helps to loosen your joints, relieving you of the pain you might feel from inflammation caused by arthritis. A warm hot tub also helps to increase your circulation to improve your range of motion while reducing the pain you feel in your knees, arms and back. Just as you would apply a heating compress to stiff or aching muscles, a home spa does more by treating your entire body at once.
Sleep Soundly Through the Night
When your mind is at ease and free of stress, and your body feels loose and relaxed, it can be easier to sleep through the night. Settling into your home spa can help you feel the same sense of calm you experience when you're falling asleep. Your body temperature also naturally drops a few hours before you go to sleep, signaling to your body that it is time to sleep. Relaxing in a warm hot tub in the evening causes your temperature to rise and can induces restful sleep as your body cools down from the soak.
Benefit from a New Home Spa
Experience the wonderful health benefits associated with owning a home spa for yourself. Contact Monarch Pools & Spas to learn more about our selection of home spas or visit our store in Totowa, New Jersey today.